Welcome to The A-Team Van Website!
We are no longer offering our van for hire but...
If you had an event you needed to get to in style, if no one else could help and if you could find them, maybe you should have hired...
The A-Team Van Heroes!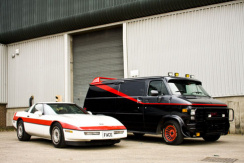 Special Occasions
Weddings
Special Events
Photo Shoots
Promotions
TV Work
Specifications:
Suffolks 1st A-Team Van! Bringing a taste of the stars to East Anglia.
Autographed by Murdock, Face, Mr T and Colonel Decker!
5 Litre Rip Roaring V8
Grey Leather Interior For Seating For Up To 6
19" Flipdown Monitor With All Episodes On DVD
Full Red & Black Turbine Alloys Dressed In Fat BF Goodrich Tyres (for getting you to the church on time !!!)
No Guns Supplied! (Driver

Mandatory

)
Van & Vette Signed by The A-Team!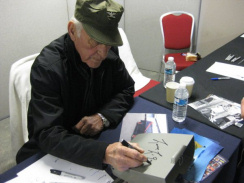 Dwight Schultz aka Murdock Signs The Van and the Corvette! This adds to the signatures of Face, Mr T and Colonel Decker!
The A-Team Van Heroes have retired from active duty!